Volunteer Christmas Party, December 13, 2014

The Shambala Volunteers had their annual Christmas Party after the December Safari. There was food and fun and a spirited gift exchange, with many gifts changing hand!
>
Winter Wonder Safari, December 7, 2014

S

unday December 7 saw Shambala's first Winter Wonder Safari. After guests were given an early evening walking safari, the night was transformed into a visual wonderland of beautiful lights. After being served delicious food and drink, everyone was treated to a delightful musical program provided by Cathi Shultz and friends. The evening was capped off by a spirited Q&A session with Tippi Hedren and special guest celebrity, four time Emmy Award winning actress Michael Learned.
---
On Saturday, December 6,
adoption parents of Shambala's Wild Ones
celebrated the season at Shambala's annual Parent's Day Christmas Party. After visiting their "children" they gathered with Tippi at the lakeside for a delicious pot luck lunch. A group photo in front of Shambala's Trading Post finished off the day.
Tippi Honored by Acton Women's Club

Tippi Hedren was recently honored for her achievements and contributions to the Acton community at the 20th Annual Acton Women's Club Fall Awards Luncheon.
Roar Members' Fall Celebration, October 18, 2014

The membership party held on October 18, 2014 was a great success! The guests enjoyed delicious food & desert by the lake, the annual Shambala tour, games, a roaming magician, the silent auction, a Tippi Hedren Rummage sale, and a photo booth which was a big hit. A special highlight of the day was the newly constructed replica of the jungle gym from the famous scene in Alfred Hitchcock's movie "The Birds" where Tippi sits outside of the Bodega Bay School House waiting for the children inside to finish singing their incessant song. It provided the guests with a great photo op. The addition of the jungle gym was Tippi's concept and was donated and constructed by Harris Steel Fence which builds all of the compounds at The Shambala Preserve. At the end of the day, a good time was had by all.
New Attraction at the Shambala Preserve!
I wanted a tribute to THE BIRDS to exist on the Shambala Preserve because without that film, I would not be doing the work with rescuing big cats born in the U.S. to be sold as pets or for financial gain. I have had an exact replica of the famous jungle gym created from the scene in Alfred Hitchcock's, The Birds, where I sit on the bench waiting for that incessant song to end.
The jungle gym has been donated to the Shambala Preserve. It is placed near the Trading Post and the Railway Station. You can sit on the bench, have your photo taken with the jungle gym behind you, with a few birds sitting on it, just like I did in the film.....I'm thrilled with the area and so grateful to Harris Steel Fence, who builds all of our animal compounds, for copying, building, and donating this piece, which is a dream come true for me.
Next time you visit the Preserve to visit the Wild Ones, take a moment to go back in history, to remember a very famous film, and maybe have a photo to remind you, forever.
I look forward to seeing you !!!!!!!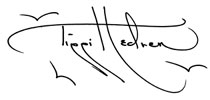 Global March for Elephants, Rhinos & Lions, October 4, 2014

The Global March for THE WILD ANIMALS, LION, ELEPHANT, AND RHINO, held at the La Brea Tar Pits last Sat., Oct. 4, 2014 was the most successful yet! The march down Wilshire Blvd. was impressive and effective. Over a thousand powerful citizens from all walks of life were on the march waving banners, shouting out for support to save the magnificent wild beings from being slaughtered into extinction by psychopathic big game hunters, who are committing murder and getting away with it. The huge numbers of poachers make millions selling pelts and body parts of these wild beings in the form of trinkets and apparel to the Asian markets. These marches occurred all over the world at the same time! Over one million concerned people attended these walks!!!....One giant step to Save The African Wild Animals!!!!!!......Stop the big game hunters, and the poachers.....they are not heroes nor do they deserve any respect!!!!!....Do not let them push our African Wildlife over the cliff to extinction for a head on the wall, a rug on the floor, a piece of jewelry, a coat, or a stuffed trophy....Let's get those universal laws to ban the hunting and poaching of wildlife everywhere in place!!!......Open your eyes, world!!!

Shambala Sunset Safari, September 13, 2014

with Special Guest Loni Anderson

Shambala's last Sunset Safari closed the season with a bang featuring Tippi's scintillating narratives of her personal experiences both on and off the screen which included her history with Hitchcock, Shambala and initiating the Vietnamese nail salon industry! Tippi shared the mike with surprise celebrity guest Loni Anderson who related up close and personal anecdotes from the many hit television shows and films in which she starred.





Shambala Sunset Safari, August 8, 2014

with Special Guest Diane McBain

Tippi Hedren hosted the August 8th Sunset Safari and treated guests with anecdotes from her career as an actress as well as her activities as a charity spokesperson, humanitarian and animal activist. The guest celebrity co-host was noted actress, authoress and Tippi's lifelong friend, Diane McBain who talked about her career, her charitable work and her book, "Famous Enough, A Hollywood Memoir". Guests were treated to an added surprise when actress Linda Gray showed up as one of the audience attendees.





---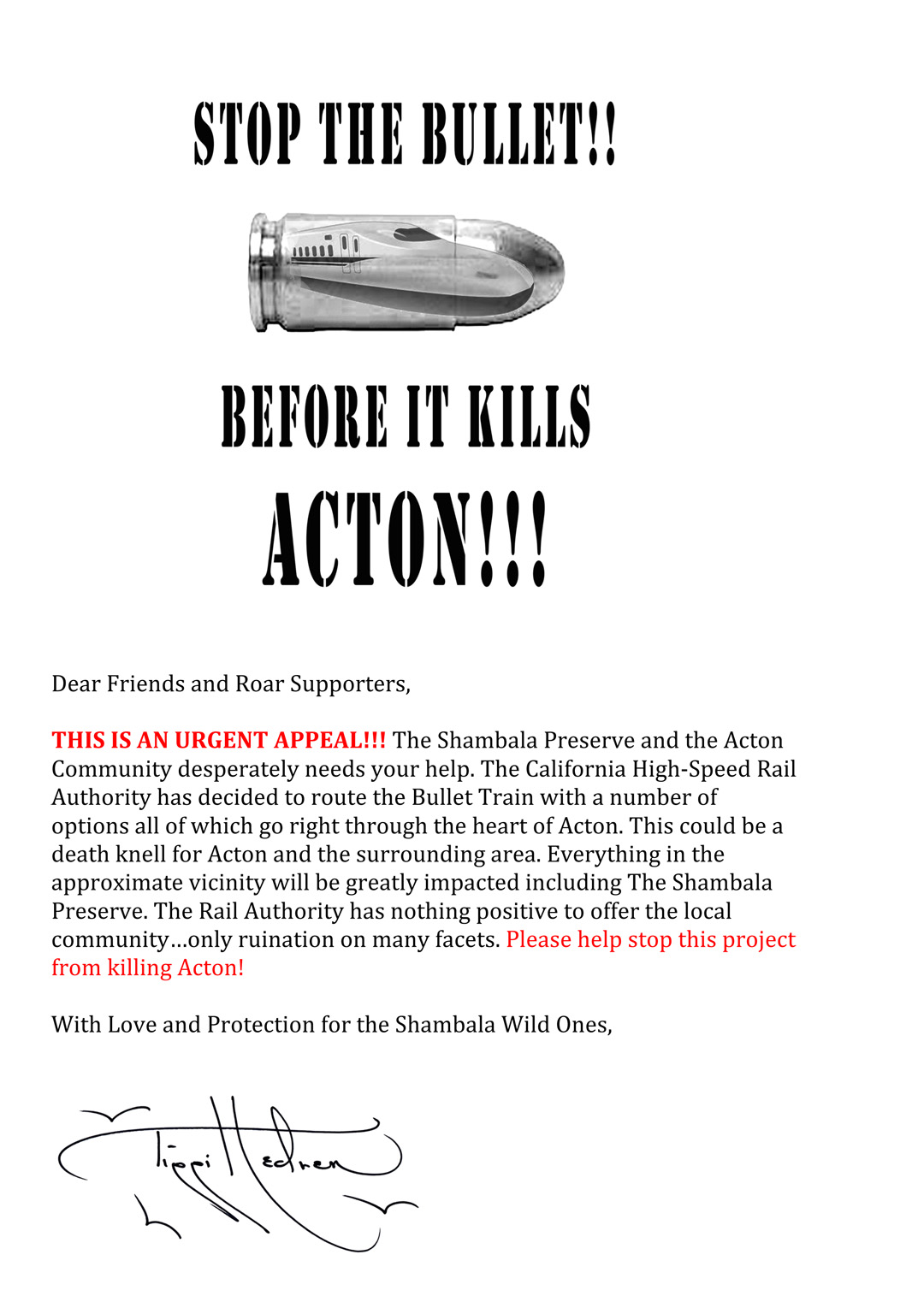 Shambala Sunset Safari, July 12, 2014

with Special Guest JoAnne Worley


The evening's Malaika Marquee guests
Craig and Melissa Watson
arrive for the Safari.



Chris Gallucci with JoAnne Worley
Los Angeles Parrothead Club, Acton, July 12, 2014

The Los Angeles chapter of the Parrothead Club (a celebration of all things Jimmy Buffet) held a "Party With a Purpose" at the 49er Bar and Grill in Acton. This month's charity was the Roar Foundation

.
Acton, California, July 4, 2014 Parade

with Grand Marshall Tippi Hedren
---
On June 25th the Acton Lions Club held a presentation ceremony hosted by Tippi Hedren at The Shambala Preserve. Two scholarships were presented by Acton Lion's Club president Virginia Wedding to two recipients. Two grants of $1000 each were presented for outstanding merit to Tanya Saucedo, a graduate of Vasquez High, and Caitlin Mulcahey, a graduate of Paradete High. Both will be attending colleges in California for the next term.




Tippi with Virginia Wedding




Tanya, Tippi, and Caitlin
Shambala Sunset Safari, June 14, 2014

with Special Guest Richard Chamberlain
---
Roar Foundation Director Chris Gallucci tries to protect the Shambala Preserve property and animals in any way he can, in a way he can relate to: inmate firefighters clearing out the riverbed! Any other questions? Contact Chris!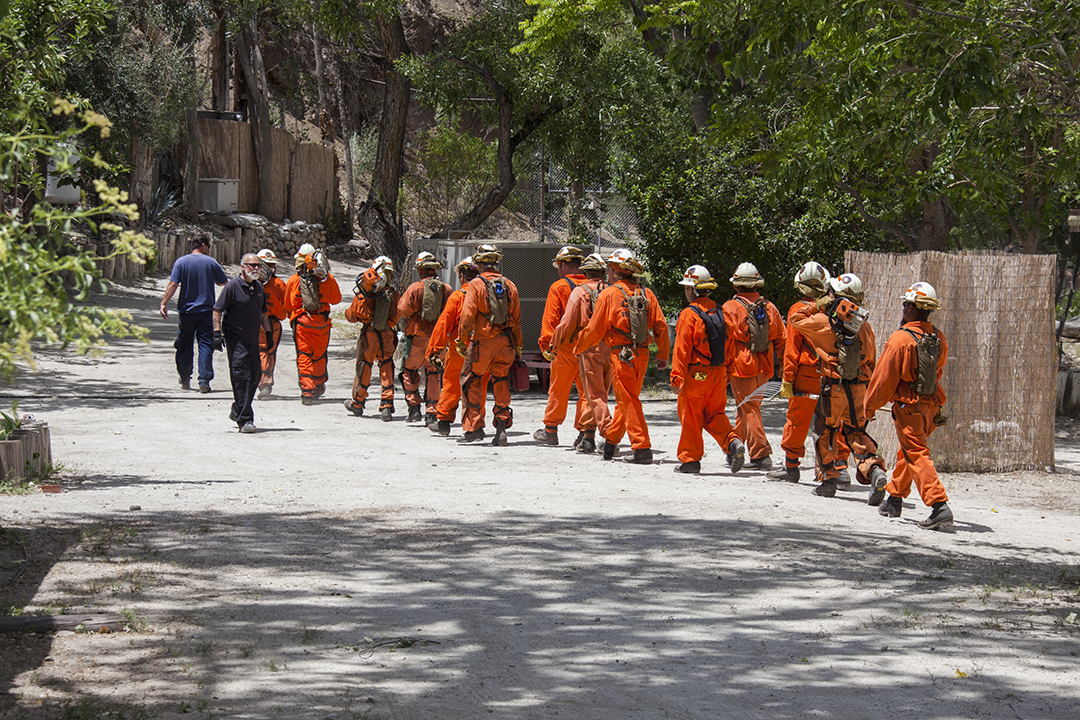 Shambala Sunset Safari, May 10, 2014

with Special Guest Steve Valentine


Director Chris Gallucci with Special
Guest Steve Valentine
and his wife, Inna Korobkina


Steve with Tippi Hedren


Steve, Tippi, and Chris at the Q&A session
A MESSAGE FROM CHRIS GALLUCCI

Fire safety for the Wild Ones (Shambala)

A foundation that wants to remain anonymous wanted to help us with a fire program. After writing and speaking to them, they agreed to finance this program: six 2600 gallon water tanks and a water truck. We needed a very special truck to fit through our gates and pathways. So I had one built. That means everything on this truck is new (Truck Equipment Fabrication Inc in Aqua Dulce) After explaining what we needed...this is it. None of this would be possible without the help of this anonymous foundation.

The Roar Foundation/Shambala Preserve cannot thank you enough!

Chris Gallucci
Director of The Shambala Preserve

See the water truck in action on YouTube!

---
Tippi Performs in "Love Letters"

Tippi Hedren and Kent Madsen recently co-starred in sold out performances of A.R. Gurney's "Love Letters" held March 21st and 22nd at the Acton Community Center. Their performances received standing ovations both nights.
A Message From Tippi:
In keeping with my long standing commitment to serving our community,
I am starring with Kent Madsen in the following production of "Love Letters" in appreciation for their help all through the years
.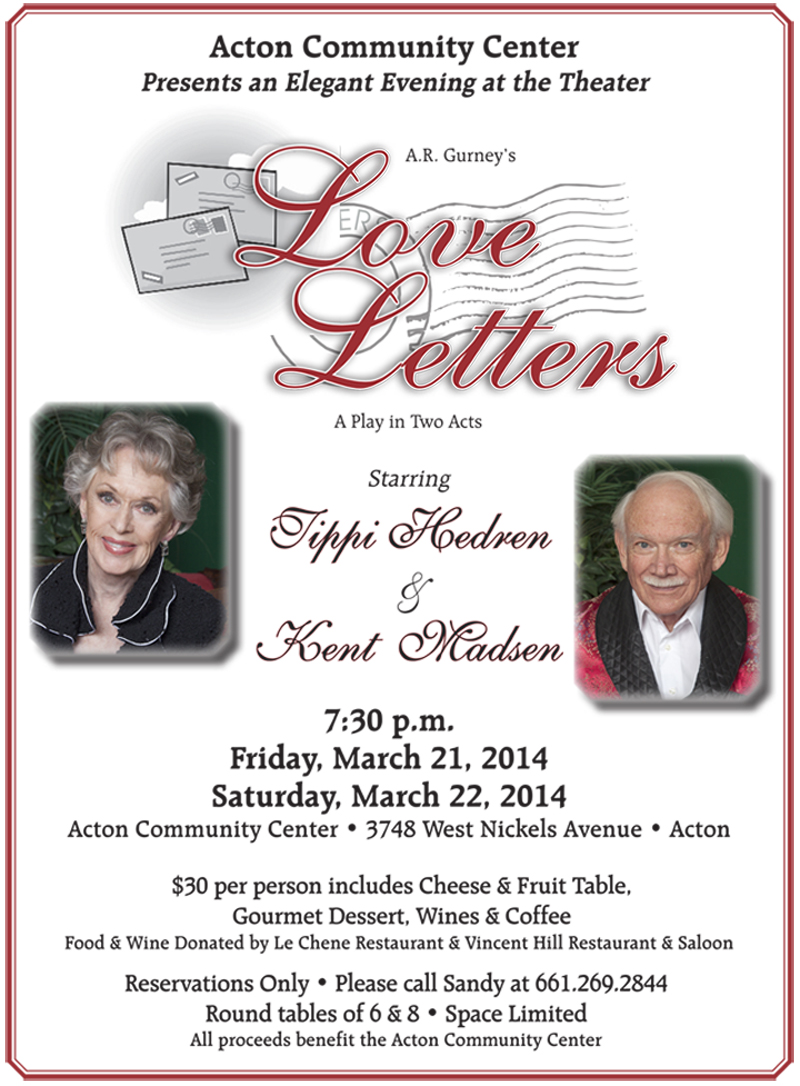 ---