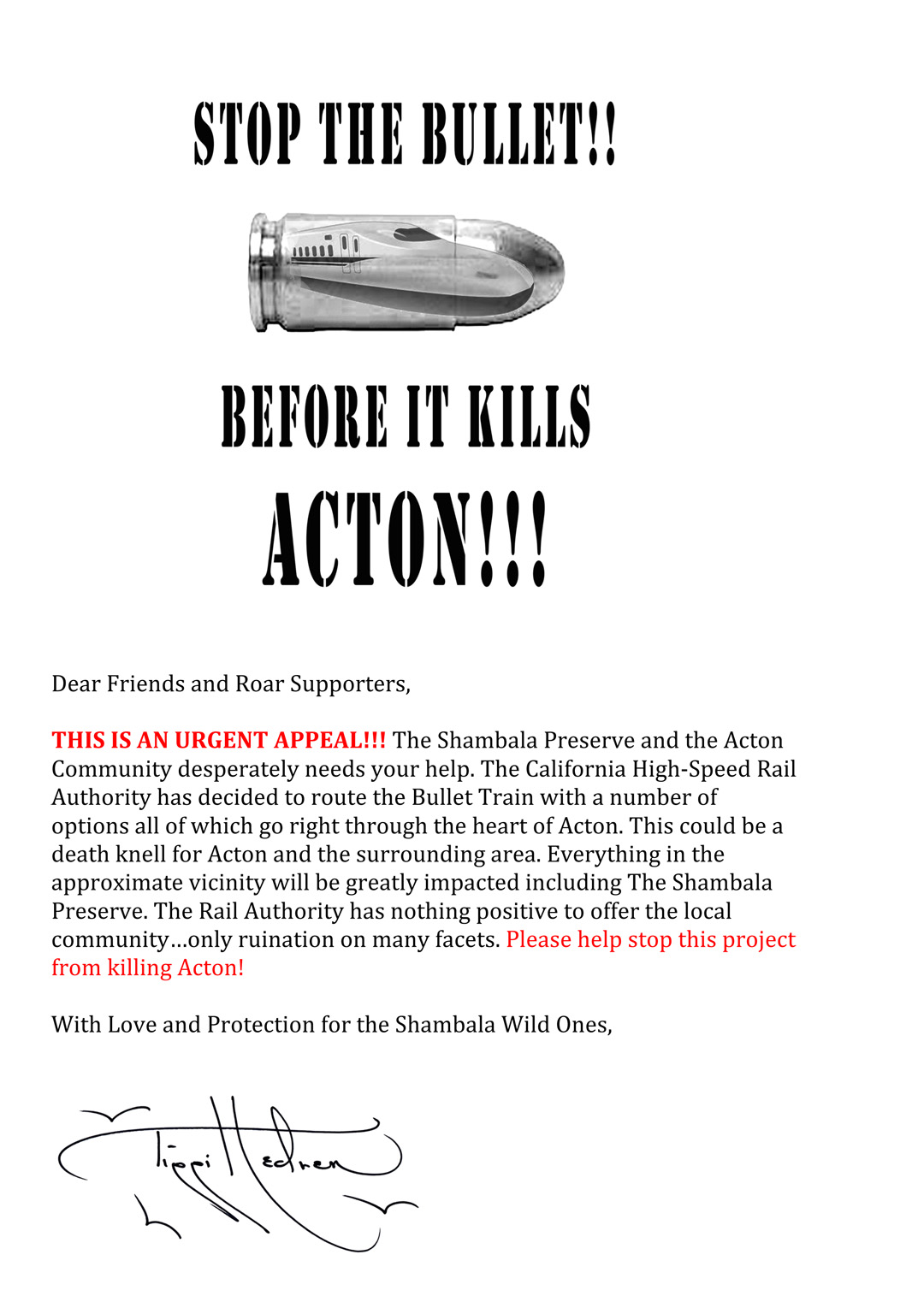 Shambala Sunset Safari, July 12, 2014

with Special Guest JoAnne Worley


The evening's Malaika Marquee guests
Craig and Melissa Watson
arrive for the Safari.



Chris Gallucci with JoAnne Worley
Los Angeles Parrothead Club, Acton, July 12, 2014

The Los Angeles chapter of the Parrothead Club (a celebration of all things Jimmy Buffet) held a "Party With a Purpose" at the 49er Bar and Grill in Acton. This month's charity was the Roar Foundation

.
Acton, California, July 4, 2014 Parade

with Grand Marshall Tippi Hedren
---
On June 25th the Acton Lions Club held a presentation ceremony hosted by Tippi Hedren at The Shambala Preserve. Two scholarships were presented by Acton Lion's Club president Virginia Wedding to two recipients. Two grants of $1000 each were presented for outstanding merit to Tanya Saucedo, a graduate of Vasquez High, and Caitlin Mulcahey, a graduate of Paradete High. Both will be attending colleges in California for the next term.




Tippi with Virginia Wedding




Tanya, Tippi, and Caitlin
Shambala Sunset Safari, June 14, 2014

with Special Guest Richard Chamberlain
---
Roar Foundation Director Chris Gallucci tries to protect the Shambala Preserve property and animals in any way he can, in a way he can relate to: inmate firefighters clearing out the riverbed! Any other questions? Contact Chris!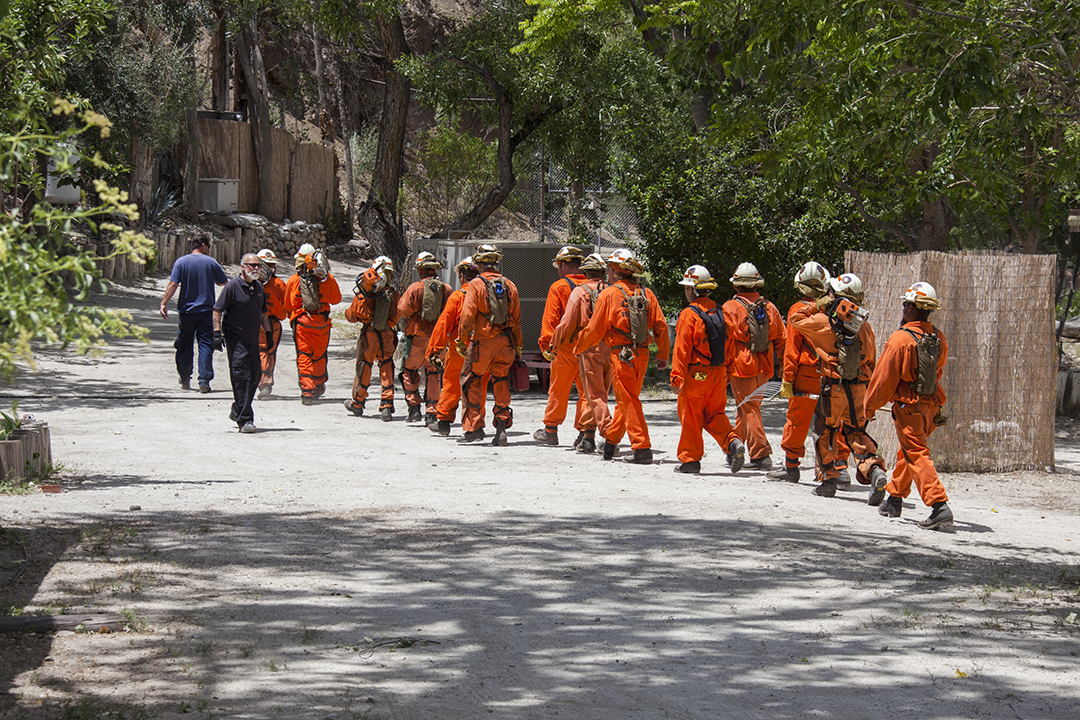 Shambala Sunset Safari, May 10, 2014

with Special Guest Steve Valentine


Director Chris Gallucci with Special
Guest Steve Valentine
and his wife, Inna Korobkina


Steve with Tippi Hedren


Steve, Tippi, and Chris at the Q&A session
A MESSAGE FROM CHRIS GALLUCCI

Fire safety for the Wild Ones (Shambala)

A foundation that wants to remain anonymous wanted to help us with a fire program. After writing and speaking to them, they agreed to finance this program: six 2600 gallon water tanks and a water truck. We needed a very special truck to fit through our gates and pathways. So I had one built. That means everything on this truck is new (Truck Equipment Fabrication Inc in Aqua Dulce) After explaining what we needed...this is it. None of this would be possible without the help of this anonymous foundation.

The Roar Foundation/Shambala Preserve cannot thank you enough!

Chris Gallucci
Director of The Shambala Preserve

See the water truck in action on YouTube!

---
Tippi Performs in "Love Letters"

Tippi Hedren and Kent Madsen recently co-starred in sold out performances of A.R. Gurney's "Love Letters" held March 21st and 22nd at the Acton Community Center. Their performances received standing ovations both nights.
A Message From Tippi:
In keeping with my long standing commitment to serving our community,
I am starring with Kent Madsen in the following production of "Love Letters" in appreciation for their help all through the years
.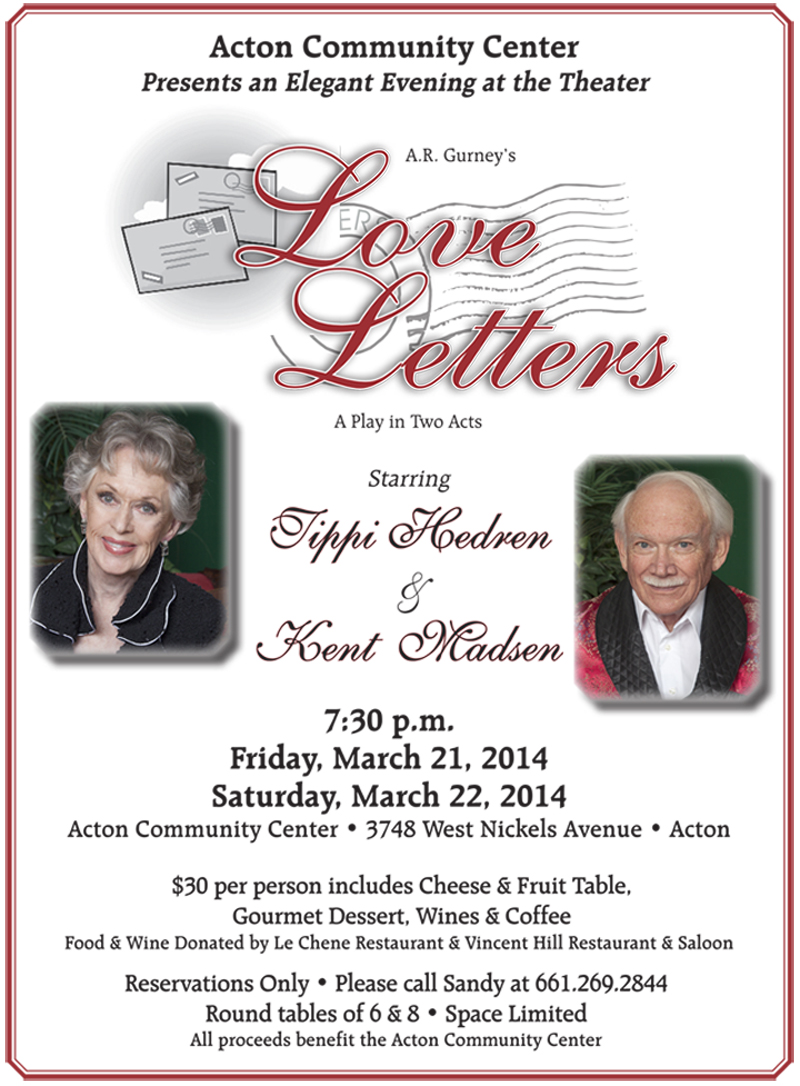 ---