All

Safari v

isitors to the Shambala Preserve must be 18 years or older, no exceptions
One special weekend each month (and on other days for private groups or parties) The Shambala Preserve opens its gates to the public for a series of exciting and informative "safaris" through the world of the big cats, all of whom are endangered or threatened species. Meet African lions, Bengal and Siberian tigers, and black and spotted leopards, servals, and mountain lions. All of these exotic cats have been born in the U.S. to be sold as pets.

The afternoon Safari consists of a 2½-hour (max) planned program, including a 1 hour guided, walk-through. You can bring your lunch and enjoy it in our beautiful picnic area Please arrive and check in 30 minutes prior to the scheduled Safari. It will start promptly at the scheduled time.
You will also have an opportunity to shop in our Trading Post, "Join our Pride" by becoming a member, or become a Wild Parent by adopting one of our magnificent Wild Ones! As an adoptive parent you have the opportunity visit your Wild One on Parent's Day, which is the first Saturday of the month.
PLEASE BE AWARE: Our safaris fill up quickly, so please try to send in your reservation at least one month in advance
2021 Safari Calendar
All

Safari

visitors to the Shambala Preserve must be 18 years or older, no exceptions.
Admission is $50.00 per person.
(Subject to change due to any unforeseen circumstance).
Saturday, September 11, 2021 at Noon SOLD OUT
Sunday, September 12, 2021 at Noon SOLD OUT
Saturday, October 9, 2021 at Noon SOLD OUT
Sunday, October 10, 2021 at Noon SOLD OUT
*Sorry

,

crossed out dates are sold out and we cannot accept additional reservations.
Private Safaris
Private safaris for groups of 35 adults, or more, can be arranged. Please call our office at 661-268-0380 for details.
Rules, Regulations & Suggestions
All guests to The Shambala Preserve must be at least 18 years old. No exceptions.

Also keep in mind that Shambala is in a high-risk fire area. The Wild Ones ask that you do not smoke.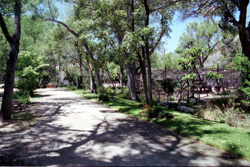 We suggest that you wear comfortable, flat shoes. Shambala is located on unimproved land so you will be walking on dirt pathways and not paved roads. For this reason comfortable shoes are a must.
Also we ask that you do not wear shorts. This will protect you not only from the sun but also from low brush and shrubs.
Also remember to dress for the climate, dress in cool layers and remember a hat in the summer. In the winter a coat is a must.
We also suggest you bring plenty of water, especially during the summer months as it does get very warm.
We suggest that you bring a camera for your personal use only.

PLEASE DO NOT BRING YOUR PETS. They will not be allowed into the preserve and it is not healthy for them to be left in the car.

Remember, our animals are wild, not pets. We do not allow any touching.
Directions
From Southern California: Take I-5 north from the Los Angeles basin to the Antelope Valley Freeway (14). Exit the (14) at Soledad Canyon Road. Turn right onto Soledad Canyon Rd, drive 9 miles and turn left at the orange cones and Shambala sign at Hughes Canyon Road. Drive down the hill to the parking lot.

From Northern California: Take I-5 south to the Antelope Valley Freeway (14). Exit the (14) at Soledad Canyon Road. Turn right onto Soledad Canyon Rd, and follow the directions above.

From the northern Antelope Valley (Palmdale/Lancaster area): Take the Antelope Valley Freeway (14) south to Crown Valley Rd (exit 24), make a left on Crown Valley. Proceed south to Soledad Canyon Rd and turn right, then go approximately 5 miles, over the long bridge and past main Shambala gates. Go past Hughes Canyon Road (by the orange cones) to large dirt turnout on right. Make a u-turn to come back to Hughes Canyon and make the left turn safely. Drive down the hill to the parking lot.

You may use Mapquest to get specific directions from your particular location.

Shambala Preserve
6867 Soledad Canyon Road
Acton, CA 93510
(661) 268-0380