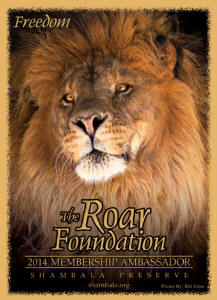 In 2003 I co-authored the bill "The Captive Wildlife Safety Act", to control the interstate traffic of the great cat. I took it to my Rep., Buck McKeon. Shortly after, Al Guart, a reporter from the N.Y. Post called. He wanted to write a story on how easy it is to purchase an apex predator in most of the U.S. He was going to purchase a lion cub. He asked if "Shambala" would take in the cub, as he did not want to be irresponsible. We decided to take the cub for two reasons, to provide lifelong sanctuary for the cub and to help Guart in his effort to tell the story of the huge business in the U.S. of breeding and selling exotic cats as pets or for financial gain. It came at the perfect time when the bill was introduced, passed and finally, signed into law on Dec. 19, 2003. The 3 ½ lb. lion cub was 8 days old when the breeder in Ohio, handed him to Guart. His story is highly informative, unbelievable and fortunately turned out so well for the magnificent lion. He is called "Freedom" and in the language of the Swahili, "UHURU". The mighty, "Freedom" has a beautiful reputation of being the most favorite, most thrilling, most handsome, perfect, strong and commanding lion of all.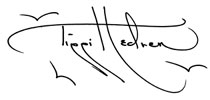 When a full-grown tiger was found in a Manhattan apartment about 10 years ago alarm bells went off. My editors at the New York Post turned to me, their senior investigative reporter at the time, to start digging. Leading an undercover team that included a photographer and two animal rights activists, I purchased a lion cub from a breeder in Ohio for $1,000. That event sparked a firestorm that resulted in a high profile lawsuit for custody of the lion and eventually led Congress to pass a law barring interstate transportation of exotic animals except under certain conditions. That magnificent lion has been cared for by the good people at Shambala ever since.
-Al Guart, Reporter, N.Y. Post
It isn't often one has experiences that change their life in a moment. For me it happened when I helped rescue an eight day old lion cub who we would later name "Uhuru," the Swahili word for Freedom. The day we rescued Freedom from a horrible animal breeding operation he weighed three-and-half pounds. That day the baby cub would fall asleep in my arms and at that moment our lives would forever be joined. Today "Freedom" lives in the dream big cat sanctuary Shambala founded by Tippi Hedren. Freedom is now ten years old and weighs a majestic 500 pounds. He is truly King of his jungle. Not a day goes by that I don't think about Freedom and how we must continue to fight to save these wonderful creatures from those who seek to profit from their existence.
-Bill Long, Animal Activist and Writer